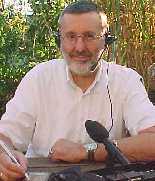 gibbon@uni-bielefeld.de
---
Computing

Recent work:
---
COCOSDA
---
Historical home page 1993-2013
---
Erdös number = 4 (Erdös - Tarski - Maddux - Ladkin - Gibbon)
Dafydd Gibbon is emeritus professor of English and General Linguistics at Bielefeld University. He studied German, French and Theology at King's College, University of London, where he was also active in the John Clifford Society (for Baptist students) and on the University of London Union Social Committee, and was awarded the University of London Laurel for his services. Part of his studies was a year abroad at the University of Erlangen, where he studied with Peter Ganz and Theodor Wolpers, as well as being immersed in international and local culture there.
---
After postgraduate studies in German 18th and 19th century literature (on Barthold Hinrich Brockes and Annette von Droste Hülshoff), and activity on the London folk scene of the late 1960s (Holy Ground Club, Bayswater), he relocated to Germany with the position of Lektor for English at the University of Göttingen, under Theodor Wolpers, and concentrated on applied linguistics in language teaching. After Thomas Gardner accepted a call to the new Chair of English Linguistics in Göttingen, he switched to theoretical and descriptive linguistics and was employed as 'wissenschaftlicher Assistent' and obtained his doctoral degree in the mid-1970s with the title 'Perspectives of Intonation Analysis'. Key experiences at that time were meeting Randolph Quirk at a conference in Bucharest in 1975, and Wiktor Jassem at a conference in Leeds in 1977.
---
From 1978 he was guest professor at Bielefeld University, then in 1980 professor for Theory and Practice of Translation, specialising in speech, at Cologne Polytechnic (Fachhochschule). From 1982 to 2009 he was professor of English and General Linguistics at Bielefeld University specialising in Computational Linguistics and Applied Phonetics and had the privilege of working with several eminent colleagues in Linguistics, and, in particular, of conducting a wide range of Europen and German funded research projects and supervising the doctoral and post-doc degrees of many talented young academics from a range of different countries, in several cases working with them in their own regions of origin in Ivory Coast, Nigeria, India, China as well as neighbouring Poland. Particular research interests include computational prosodic analysis, computational lexicography, computational linguistics in speech technology and in fieldwork on Niger-Congo languages, and Documentary Linguistics for endangered Languages.
---
He has occupied many university administrative posts, including Department Head of Linguistics and of English Studies, Dean of the Faculty of Language and Letters, member of the Senate and of the Convocation (Konvent), as member and then Chairman of the Senate Committee for Computing Affairs (ADV-Ausschuss), and as member of the Founding Commission of the Technical Faculty of Bielefeld University. Until recently he was Convenor of COCOSDA (International Coordinating Committee for Speech Databases and Assessment) for nearly ten years.
---
Currently he continues active research and academic travel, but now with more time for his delightful 3-generation family, creative activities, cycling, motorcycling and windsurfing.
---
(For a whimsical potted bio, see Linguist of the Day, Linguist List 2010-03-11. For even more whimsical information, check Twitter and Facebook, as well as iTunes, Amazon and YouTube.)